Home » Artwork » Fine Art Reproductions » Open Edition Prints
Open Edition Prints – Page 1
www.OpenEditionPrints.com
---
Signed, Open Edition Prints Reproduced from Santoleri Original Drawings and Paintings
Page 1 Page 2
---
An open edition print is a fine art reproduction that has an unlimited print run. They are usually more affordable than limited edition prints. 
---
The open edition prints featured below are printed on high quality acid-free fine art paper and individually hand-signed in pencil by the artist. 
---
To provide reproductions more affordable for framing, Nick designed a series of pencil drawings and paintings to fit into a standard-sized mat and frame:
♦Standard Sized Framing: 11″ x 14″  (outsize dimension 16″ x 20″) and standard 16″ x 20″ frame. Printed on high quality, acid-free, 100 lb. fine art paper, using pigmented inks.
---
Click Images for More Info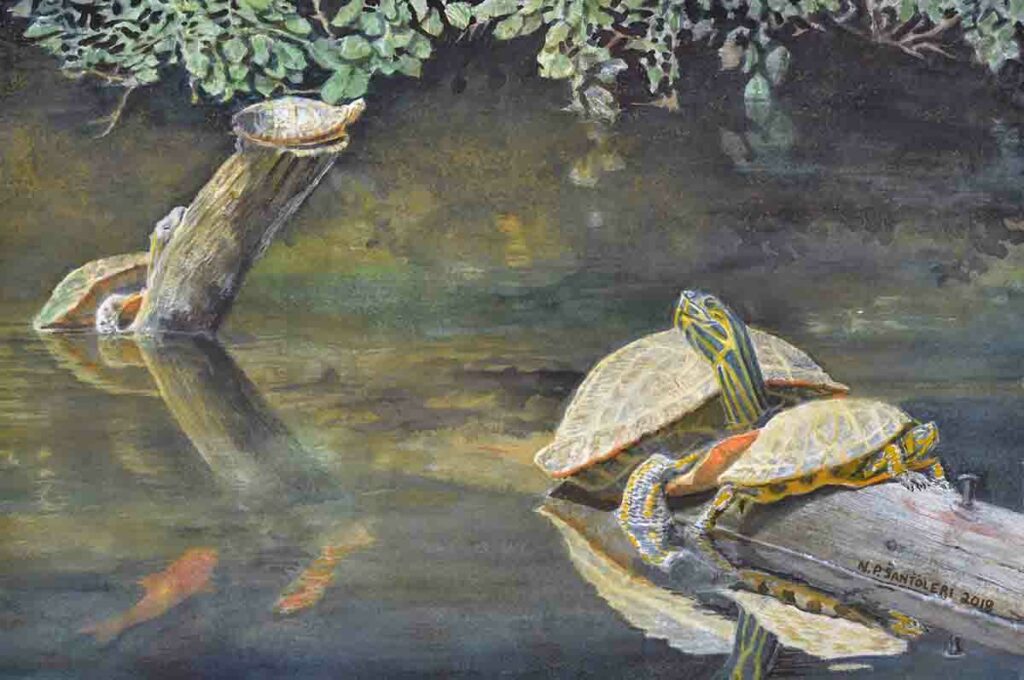 Get Down from There, You're Scaring the Fish   Available in 2 Sizes*
* Image size:   9.75″ x 13″  – Standard Sized Framing 
** Image size: 12.75″ x 20″
---
Jimmy John's ' Pipin' Hot Sandwiches Available in 2 Sizes*
* Image size:   9.75″ x 13″  – Standard Sized Framing 
** Image size: 12.75″ x 20″
---
"Hiking The Wissahickon Trails" – 2018 Click Image for more information
Available in 2 Sizes: 9.75″ x 13″ – Standard Sized Framing & Image size: 12.75″ x 20″
---
Standing Guard – 2017
Image size: 9.75″ x 13
♦Standard Sized Framing
---
Penn States Pride – 2017
Image size: 9.75″ x 13″♦Standard Sized Framing
---
October Surprise – 2017
Image size: 9.75″ x 13″
♦Standard Sized Framing
---
On the Road to Strodes– 2017
Image size: 9.75″ x 13″♦Standard Sized Framing
---
Penn State III – (The Lion) 2016
Image size: 9.75″ x 13″ ♦Standard Sized Framing
---
Lucy The Elephant – 2016
Image size: 9.75″ x 13″♦Standard Sized Framing
---
A View From Alamo Square 2016
Image size: 9.75″ x 13″
♦Standard Sized Framing
---
Ocean Pathway – (Ocean Grove, NJ) – 2016
Image size: 9.75″ x 13″
♦Standard Sized Framing
---
Special Delivery– 2016
Image size: 9.75″ x 13″
♦Standard Sized Framing
---
Washington Memorial Chapel– 2016
Image size: 9.75″ x 13″
♦Standard Sized Framing
---
Sandy Hook Light – 2016
Image size: 9.75″ x 13″
♦Standard Sized Framing
---
Newton Square Friends Meeting – 2016
Image size: 9.75″ x 13″
♦Standard Sized Framing
---
Frances and Fiona – 2016
Image size: 9.75″ x 13″
♦Standard Sized Framing
---
Manayunk- 2016
Image size: 9.75″ x 13″
♦Standard Sized Framing
---
Cape May Castles – 2016
Image size: 9.75″ x 13″♦Standard Sized Framing
---
Transitions from Pencil Drawing – 2016
Image size: 9.75″ x 13″♦Standard Sized Framing
---
'Fonthill Castle from Pencil Drawing – 2016
Image size: 9.75″ x 13″♦Standard Sized Framing
---
Flower Girl from Painting – 2013
Image size: 9.75″ x 13″♦Standard Sized Framing
---
Birmingham Octagonal Schoolhouse – 2013
Image size: 9.75″ x 13″♦Standard Sized Framing
---
Pope Francis Pencil Print – 2015
Image size: 9.75″ x 13″♦Standard Sized Framing
---
Merion Tribute House – 2013
Image size: 9.75″ x 13″
♦Standard Sized Framing
---
St. Mary's Chapel – 2013
Image size: 12.75″ x 10″ ♦Standard Sized Framing
---
Open Edition Prints – Page 1
  Open Edition Prints – Page 2 
---
Nick Santoleri ~ Artist  |   Pine Ridge Productions, Inc.
1515 West Chester Pike Unit A-6, West Chester, PA 19382
In Historic Chester County, Pennsylvania
S. Beck OK
---