Ocean Pathway
"Ocean Pathway" (New Jersey) is a pencil drawing by artist Nicholas Santoleri.
Also available as an open edition, hand signed print, reproduced from the original pencil drawing.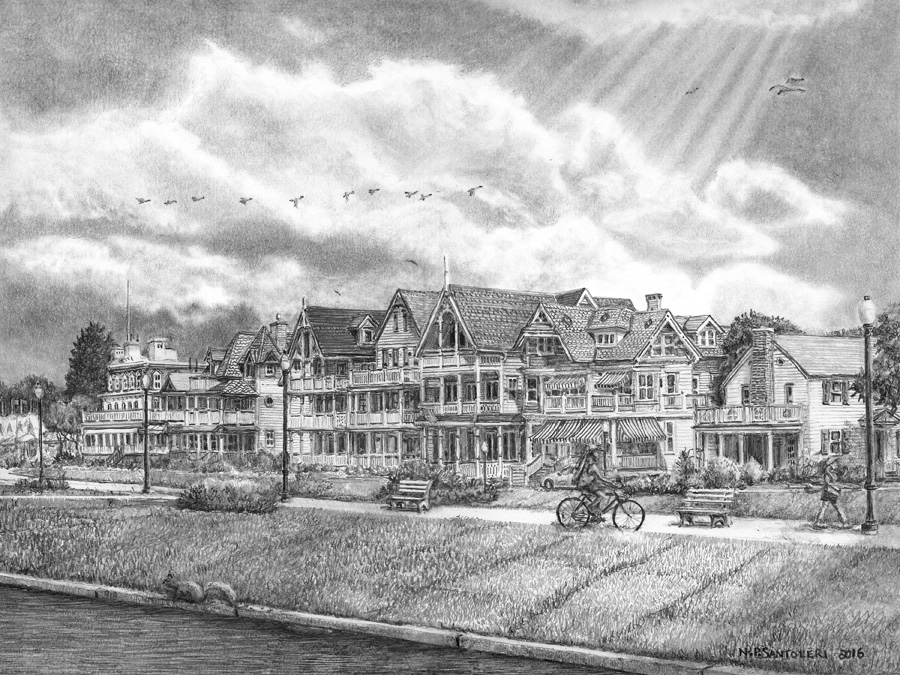 "Ocean Pathway" – an open edition signed print, reproduced from the original  pencil drawing of the same name, by artist Nicholas Santoleri.
Located in Ocean Grove, New Jersey on the Atlantic Ocean's Jersey Shore, between Asbury Park to the north and Bradley Beach to the south. Ocean Grove is noted for its abundant examples of Victorian architecture.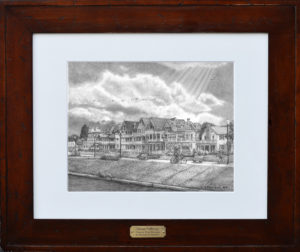 As a long time Cape May fan, I have an admiration and fascination for Victorian architecture. After hearing about Ocean Grove, many times I went to visit close friends of mine. To my amazement I found it one of the most beautiful towns that I have ever visited.  The planners of this town knew what they were doing, providing so many unobstructed vistas. Well my friends live on Ocean Pathway, (National Geographic calls  it "The Prettiest Short Street in America").
Ocean Grove, founded in 1869 by William B. Osborn and Ellwood H. Stokes, in Monmouth County. By the early 20th century, the popular Christian meeting ground became known as the "Queen of Religious Resorts." The community's land is still owned by the camp meeting association and leased to individual homeowners and businesses. Ocean Grove remains the longest-active camp meeting site in the United States.
See what people on Facebook are saying about this image.
Slide show on producing this drawing and subsequent fine art print:
The original pencil drawing was reproduced on acid free, 100 lb. fine art paper. These reproductions may be matted in a standard size mat opening and therefore a standard size frame (framing information).
The image size of the original pencil drawing is 10.5 x 13.5 inches.

The original pencil drawing was created in 2016.

The print image size is 9.75 x 13 inches.

Each print is hand signed, in pencil, by the artist.
Ocean Pathway