Lucy The Elephant
"Lucy the Elephant Print"  is a open edition, hand signed print,
reproduced from the original pencil drawing titled, "Lucy The Elephant", by artist Nicholas Santoleri.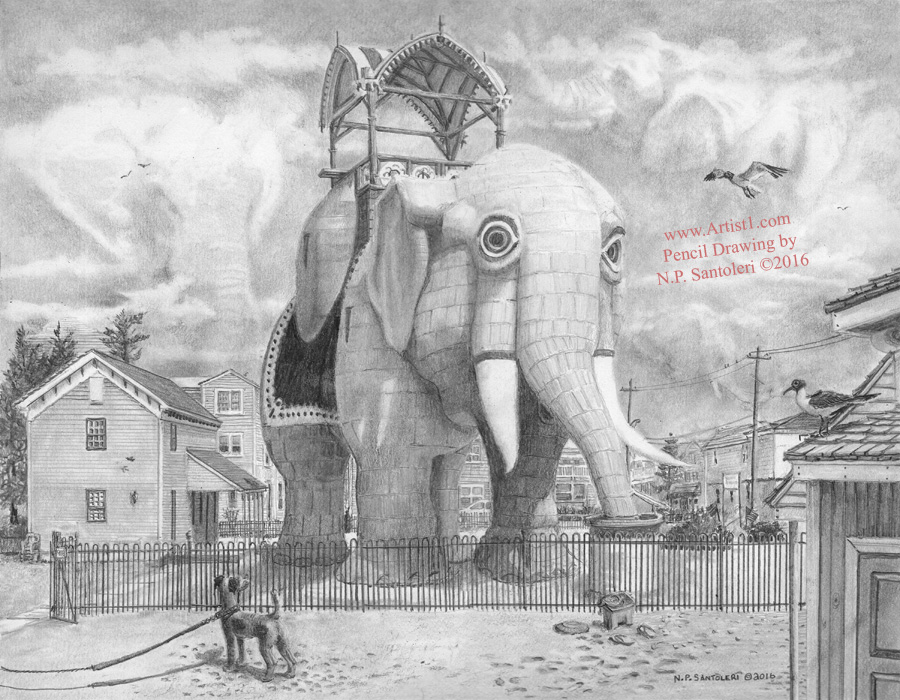 Lucy the Elephant, a National Historic Landmark in Margate, New Jersey, has just celebrated her 135th Birthday. Over the years, Lucy has been  a summer home, a tavern, and now a perennial favorite attraction for shore visitors from all over South Jersey. From atop Lucy on her hawdah carriage, over 65 feet high, visitors have a spectacular view of the ocean and surrounding area.
Originally named "Elephant Bazaar",  Lucy the Elephant is a six-story elephant-shaped building constructed of wood and tin sheeting by James Lafferty south of Atlantic City, The U.S. Patent Office granted him a patent giving him the exclusive right to make, use or sell animal-shaped buildings for 17 years. Lafferty paid for the building of his first elephant-shaped building at South Atlantic City, now called Margate. Architect William Free designed the building and a Philadelphia contractor constructed it at a cost of between $25,000 – 38,000.
Slide show on producing this drawing and subsequent fine art print:
Click here to see the Facebook posts that were inspirational in drawing this.
Click here to see the Facebook posts about the finished drawing.
The original pencil drawing was reproduced on acid free, 100 lb. fine art paper. These reproductions, individually hand signed by the artist, may be matted in a standard size mat opening and therefore a standard size frame (framing information).
The image size of the original pencil drawing is 10.5 x 13.5 inches.

The original pencil drawing was created in 2016.

The print image size is 9.75 x 13 inches.

Each print is hand signed, in pencil, by the artist.
Lucy the Elephant Print
| Artwork | Status | Price | Purchase |
| --- | --- | --- | --- |
| Original Pencil Drawing "Lucy The Elephant" | Available One of a kind, original pencil drawing professionally framed and matted. | $2,250 | |
| Open Edition Print - 9.75 x 13 Inches Hand signed in pencil by the Artist. | Available | $40 | |
| Pack of Note Cards (5″ x 7″). 10 Cards Packaged with 10 envelopes. | Available | $20 | |
 Also See :
---
Nicholas Santoleri ~ Artist      Pine Ridge Productions, Inc.
1515 West Chester Pike Unit A-6, West Chester, PA 19382
In Historic Chester County, Pennsylvania
---