October Surprise
"October Surprise" – An open edition signed print, reproduced
from the original  pencil drawing of the same name,
by artist Nicholas Santoleri.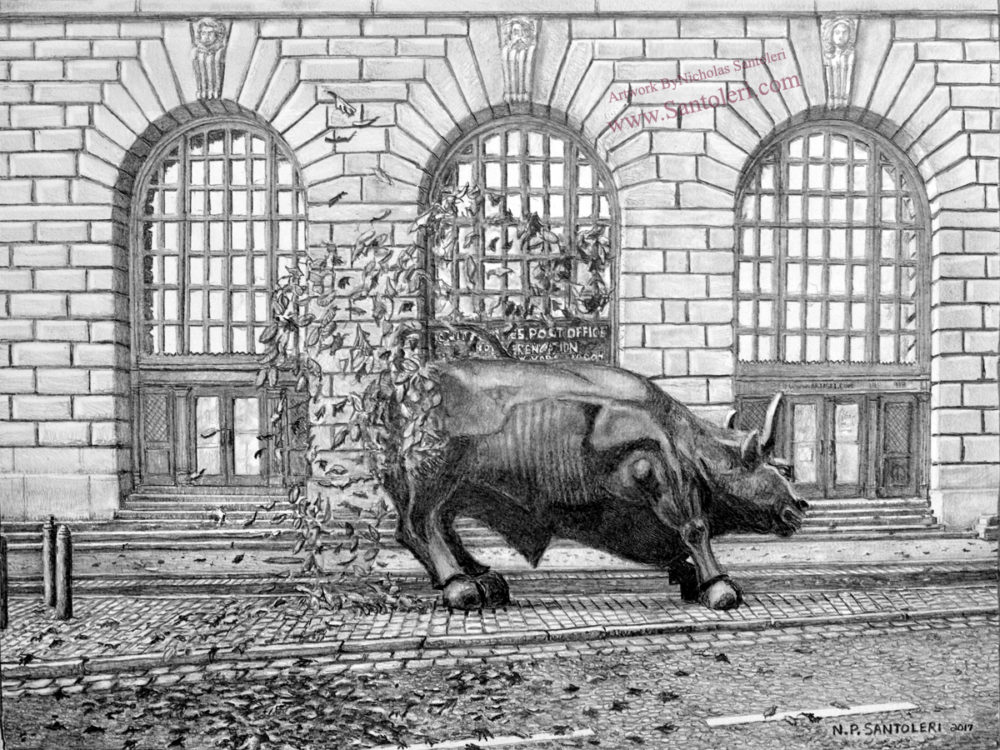 Inspired by discussions with some friends in the financial industry regarding the current bull market on the stock exchange, I decided to look to New York for my next project. The iconic figure of the Charging Bull which graces Bowling Green in the Financial District seemed like the perfect fit for my artwork, and my quirky sense of humor.
The bronze sculpture by Arturo DiModica, has become a Wall Street symbol of financial optimism and prosperity. I have tried to capture the strength of the bull, but the whirlwind of leaves hints at the changes that might be coming.
"October Surprise"
Item
Status
Price
 Purchase
 The Original Pencil Drawing Mated and Framed
 One of a Kind

Available

$2250
Open Edition Signed Print
Available
 $50
Note Cards
Pack of 10 Note Cards (5″x7″) Including 10 Envelopes

Available

$20 
  
 Also See :
---
Nicholas P. Santoleri ~ Artist      Pine Ridge Productions, Inc.
1515 West Chester Pike Unit A-6, West Chester, PA 19382