"Standing Guard"
"Standing Guard" (West Chester University Golden Ram)– an open edition signed print, reproduced from the original  pencil drawing of the same name,  by artist Nicholas Santoleri.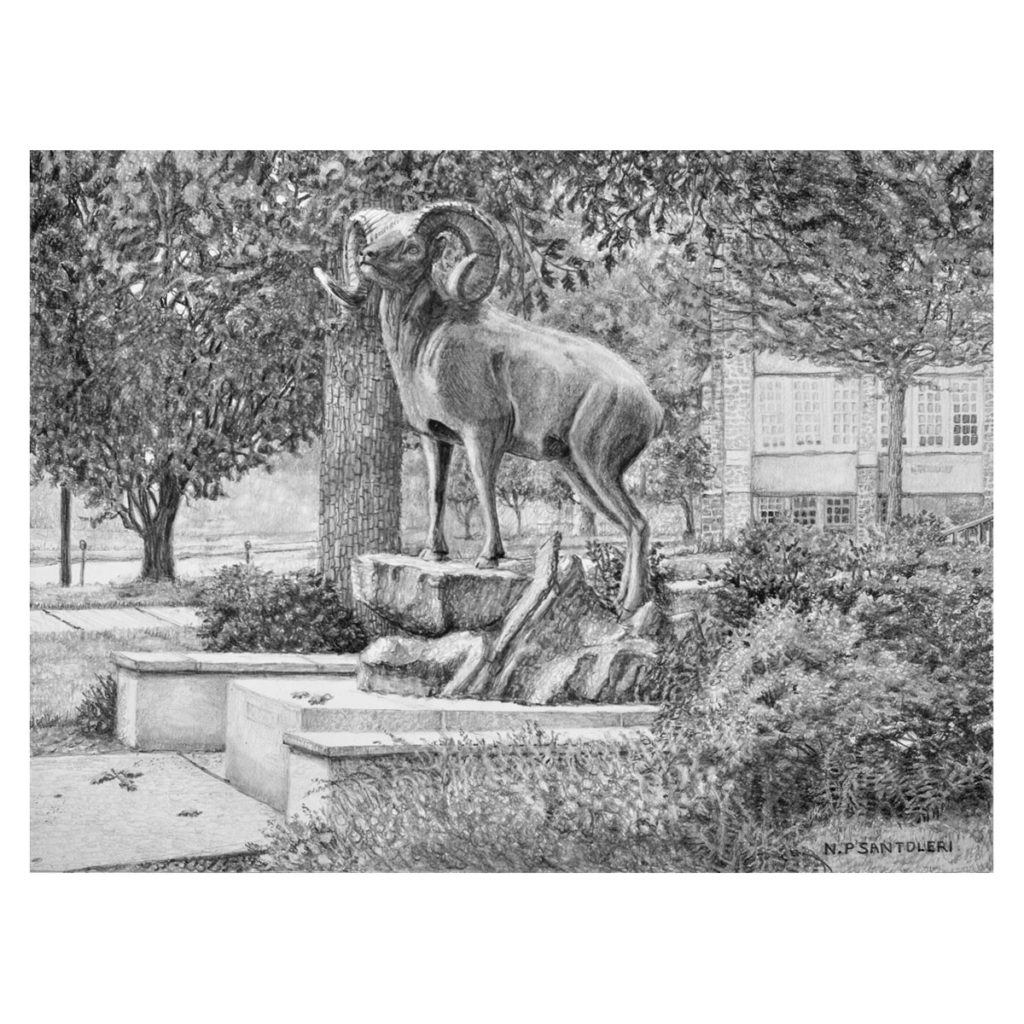 "Standing Guard" pencil drawing by Nick SantoleriThe Golden Ram statue, a landmark on the campus of West Chester University, West Chester, PA. , was designed and sculpted by artist James Marsico in Cody, Wyoming.  The impressive 2000 lb., 9 foot bronze sculpture, installed in September 2007 in front of the Old Library, was a result of a five year project first proposed by the Student Government Association. The Golden Ram has been the official team mascot since the 1930's, and the statue has become a permanent symbol of West Chester University school spirit and a tangible focal point for school pride and community.
See what people on Facebook are saying about this image.
The original pencil drawing was reproduced on acid free, 100 lb. fine art paper. The reproduction, signed by the artist, may be matted in a standard size mat opening and therefore a standard size frame  (framing information).
The image size of the original pencil drawing is 11 x 14 inches.
The original pencil drawing was created in 2017.
The print image size is 9.75 x 13 inches.
Each print is hand signed, in pencil, by the artist.
"Standing Guard"
Item
Status/Price
 Purchase
The Original Pencil Drawing Matted and Framed
 One of a Kind  – 

Available

   $2250
Open Edition Signed Print

Available

   $50
Note Cards
Pack of 10 Note Cards (5″x7″) Including 10 Envelopes  

Available  

$20 
  
 Also See :  "West Chester University" – Limited Edition Signed & Numbered Print.
---
Nicholas P. Santoleri ~ Artist      Pine Ridge Productions, Inc.
1515 West Chester Pike Unit A-6, West Chester, PA 19382