www.Santoleri.com  

and

  www.Artist1.com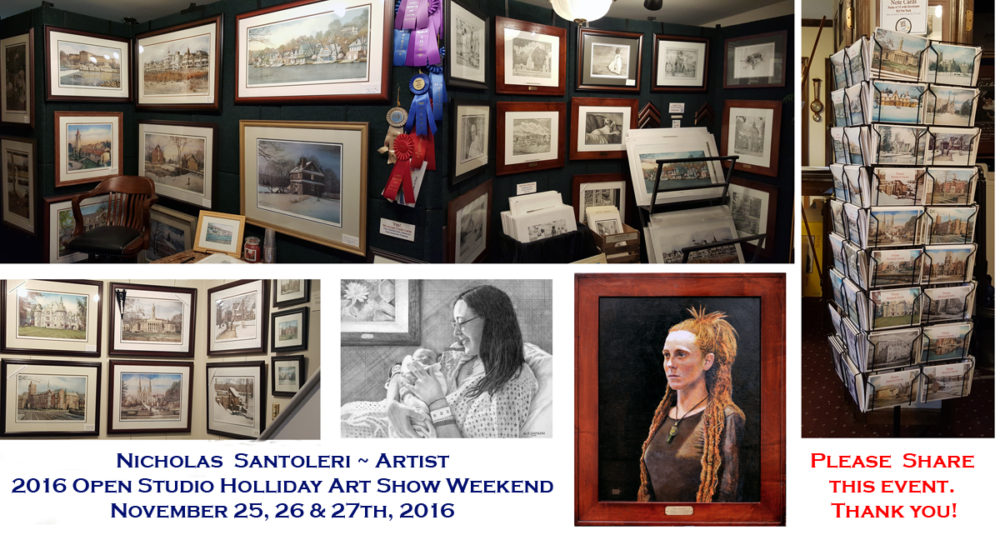 When : November 25, 26, and 27th, 2016
Where: 1515 West Chester Pike Unit A-6, West Chester, PA 19382
My Studio.
All are invited!!
New Note Cards:  "The Cape May Series" and  "The Philadelphia Series" as well as over 100 of the images of paintings and drawing by Santoleri (spanning over 30 years).
"Penn State  2″ (Old Main)"  my newest signed & numbered, limited edition print, reproduced from the original watercolor painting by the same name.
Recent Drawings and Prints completed in 2016:
Drawings and Prints currently in progress:
"Alamo Park" (San Francisco, California)
Approximate  Completion Date 9/30/16
---
For more than 30 years, Nicholas P. Santoleri has created stunning and realistic art, and prints of many of his works are now available for your home or office.
Santoleri's artworks highlight notable landscapes from throughout the Northeast, from Boathouse Row and Independence Hall in his Philadelphia, Pennsylvania backyard to other vistas from New Jersey, Delaware, New York, Maryland, and Massachusetts. He also captures some Italian landscape views, adding international perspective to his portfolio. 
His watercolors, pencil drawings, and other media works also include portraits and still-life paintings captured in the realist style. Among his more notable portraits is an oil painting of former President Bill Clinton, which currently hangs at the Thoreau Institute in Concord, Massachusetts.
Many of Santoleri's works have also helped support charitable efforts, such as fundraising drives for Salvation Army, the Ronald McDonald House and many other agencies. He is also a member of the Philadelphia Sketch Club, and continues refining his skills at the Pennsylvania Academy of Fine Arts.
Santoleri's digital gallery can be searched by key terms to help find a specific view or site. For more information on prints or specific artworks, contact him at 610-995-2047.
This website is still a work in progress. Should you come across a broken link please contact us about it on the contact page.
Please use the Search Tool
Some Examples: Philadelphia, Cape May, Independence Hall,  Boathouse Row, drawings, paintings, skyline……  or just type the first few letters Example: indepe, blanket, Annapo.. 
Please join our email list
---
Nicholas P. Santoleri ~ Artist      Pine Ridge Productions, Inc.
1515 West Chester Pike Unit A-6, West Chester, PA 19382
In Historic Chester County, Pennsylvania
---