Home » Information » Artist Statement
Artist Statement
---
Artistic Influences
My artistic influences include Albrecht Durer, John Singer Sargent and especially, Andrew Wyeth. I was lucky enough to meet Andrew Wyeth before he passed away.  He admitted that he, too, was inspired by Durer, especially when drawing Braids.  Wyeth's artistic philosophy, that artists are merely a medium for a higher artistic spirit, mirrors my own.  When I'm working on a piece, I feel blessed to have the art spirit guiding me down that same path. 
---
Art as Meditation
Art is my meditation and therapy. Some other artists look at my paintings and say they'd go crazy doing that much detail. But I get lost in the intricacies of my work. It's like when my grandmother would crochet while watching TV and would be shocked at how quickly she finished a blanket. I don't realize the minute details of buildings or the many blades of grass I've drawn until after I've finished the piece.
---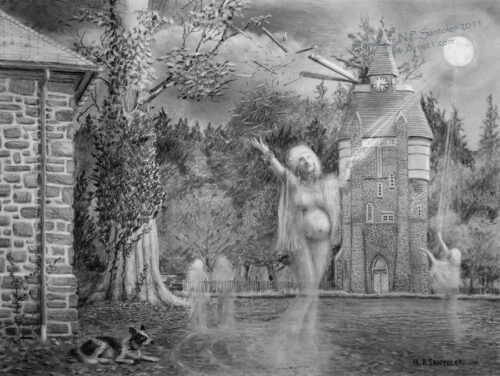 ---
The Art Spirit
When the art spirit moves through me, I go into an artistic trance- like riding a wave. I tried to capture the overall experience in my 2011 drawing, The Art Spirit. This was a particularly unusual piece because so many personal elements are hidden within it. Like the dog in the far left corner, for instance- I am the dog. Early in my career, that dog would have been a Chihuahua. But over the years, I learned patience. My current dog is more of a mutt in a trance-like state, much like the one I'm in- often in the wee hours- when I'm working.
---
Sometimes creative types have an inability to verbalize their emotions. For me, the pencil has always been the easiest way for me to express myself. Almost all of my work, regardless if the final piece is watercolor, acrylic or oil, originates as a pencil sketch. Later, when adding the color, I try to create a final piece that's as realistic as possible by combining dry brush and wet on wet. Whether I'm using pencil, watercolor, graphite, acrylic or oil, I strive to transcend the medium in which I'm working. And all the while, the art spirit is pregnant with the next idea she has to offer up to me.
---
Nick Santoleri ~ Artist  |   Pine Ridge Productions, Inc.
1515 West Chester Pike Unit A-6, West Chester, PA 19382
In Historic Chester County, Pennsylvania
---
S. Beck OK