Home » Artwork » Original Art » Watercolor Paintings » Washingtons Headquarters
Washingtons Headquarters
Limited Edition Signed and Numbered Print.
Reproduced from the original watercolor painting by N. Santoleri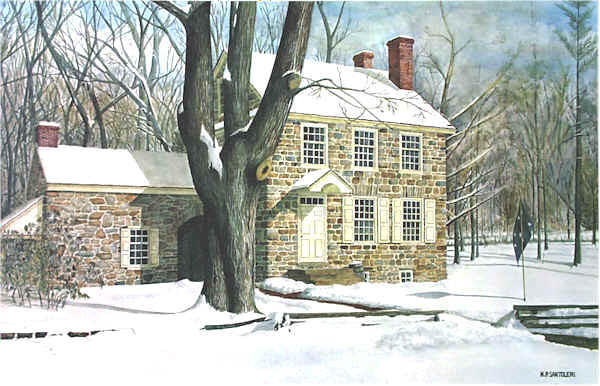 This image of the snow covered Washington's Headquarters might have been painted in 1777 when the Continental Army was camped in Valley Forge Park in Pennsylvania. The colonial architecture of this historic building is depicted in exacting detail.
This limited edition print, signed and numbered by the artist, was reproduced from the original watercolor of the same name, using the highest quality craftsmanship and printing on fine neutral pH balanced paper.
About this edition:
The original watercolor painting was created in 1986
The image size is 14.25 x 22.25 (height by width in inches)
Are you looking for a sold out print? We maybe able to assist you in locating a gallery that may still have the print. Click here for more about Sold Out Prints.
| Artwork | Status | Price | Purchase |
| --- | --- | --- | --- |
| Limited Edition Signed & Numbered Print, Regular Edition. 750 Prints | SOLD OUT | $50 | SOLD OUT |
| Limited Edition Signed & Numbered Artist Proof Edition 75 Prints | SOLD OUT | $100 | SOLD OUT |
| Limited Edition Signed & Numbered Remarque Print 25 Remarqued Prints | SOLD OUT | $400 | SOLD OUT |
| One Pack of Note Cards 10 (5" x 7") Note Cards & 10 Envelopes | Available | $20 | |