Sold Out Prints
Are You Looking for a Sold Out Print?
Sold Out Prints – When we  have sold out the edition to galleries and individuals and no longer have any prints that we can offer for sale, we mark the edition "Sold Out".  When this happens, some galleries may or may not still have this print in their inventory.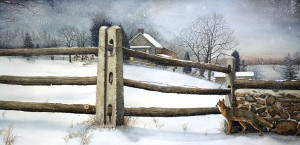 "A View of the Hunt" by Santoleri 1989 If you are interested in purchasing a print and it is marked sold out, call local galleries to see if they have the print in stock. If you can still not locate a copy, please contact us and we will do a wider gallery search in our database to identify galleries that may have the print.  We occasionally get a sold out print traded back to the office for a newer print.  We also have a short list of individual customers who have notified us that they may be interested in selling a particular print, usually already framed.  Using these resources, we will try to help you locate the print. The list of sold out prints below are available from a Delaware County gallery owner whose store has closed.  They had quite a number of sold out Santoleri prints in there archive. If you are interested in any of these sold out prints, please contact our office at 610-995-2047, and we will put you in touch with the gallery owner. If you would like us to try to locate a copy of a sold out print by Santoleri, or if you have one to sell please contract us and we will make our best effort to help you do so.
---
Nicholas Santoleri ~ Artist      Pine Ridge Productions, Inc.
1515 West Chester Pike Unit A-6, West Chester, PA 19382
In Historic Chester County, Pennsylvania
---