Angel of the Sea
Limited Edition Signed and Numbered Print.
Reproduced from the original watercolor painting by N. Santoleri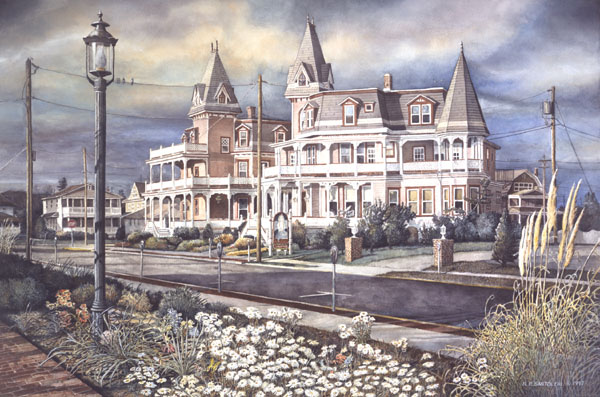 Limited Edition Signed and Numbered Print. Reproduced from the original watercolor painting. Picture Here The Angel of the Sea, built in 1850, is one of the classic Victorian style Bed & Breakfasts for which Cape May is so well known. The Angel radiates the historic charm that attracts visitors to this seaside resort year round. Angel of the Sea is the third work in the Cape May Collection.
This limited edition print, signed and numbered by the artist, was reproduced from the original watercolor of the same name, using the highest quality craftsmanship and printing on fine neutral pH balanced paper.
About this edition:
The original watercolor painting was created in 1997
The print image size is 18.25″ x 28.00″  (height by width in inches)
Type of Print

Edition Size

Print Status

Price

 

Purchase

Limited Edition Signed & Numbered Print

Regular Edition

 

950

Sold Out

 

$125

Limited Edition Signed & Numbered Artist Proof
 

50

Available
 

$250

Limited Edition Signed & Numbered

Remarque Print

50

Available

$500

New!
Note Cards

 N/A

Pack of 10 Note Cards (5″x7″) Including 10 Envelopes

$20 
Are you looking for a sold out print? We may be able to assist you in locating a gallery that may still have the print. Click here for more about Sold out Prints.
Would you like to have this print personalized for free?
Nicholas P. Santoleri ~ Artist      Pineridge Productions, Inc.
1515 West Chester Pike Unit A-6, West Chester, PA 19382
In Historic Chester County, Pennsylvania