---
Home » Artwork » Original Art » Watercolor Paintings » The Gables
The Gables at Chadds Ford
---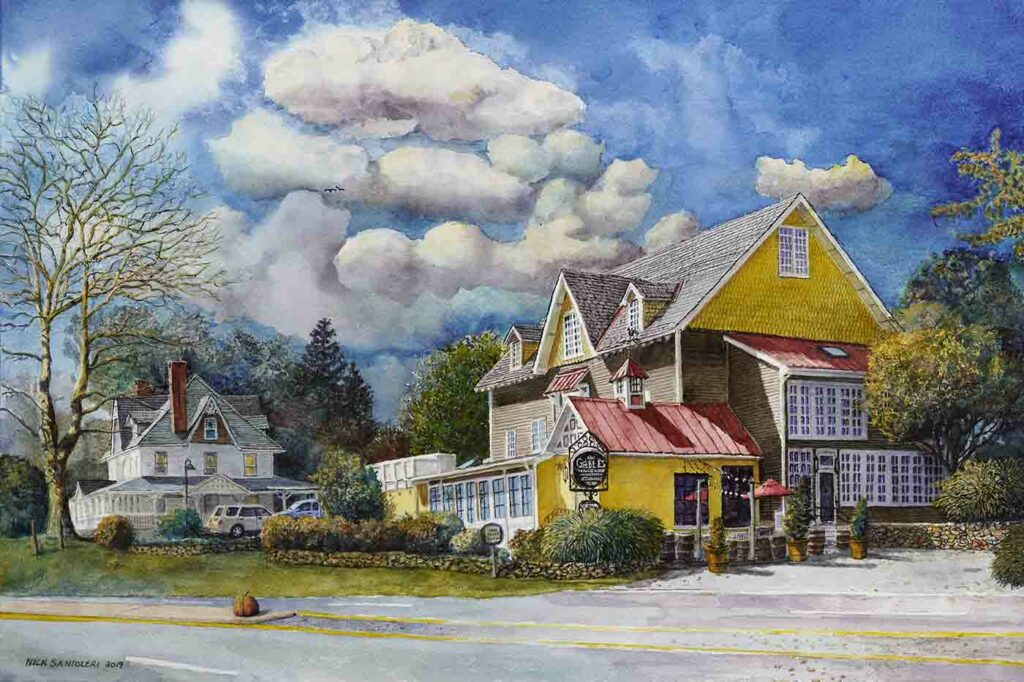 The Gables at Chadds Ford – 18″ x 28″ watercolor painting by Nick Santoleri
Also available as a limited edition signed and numbered print…See below.
---
In the summer of 2019, I began searching for historic inns and restaurants to include in my recent series. The Gables at Chaddsford was a perfect subject. This quaint establishment, with its charming wraparound porch, derives its name from a large number of Victorian-era gables featured between the roof slopes. There are twenty-three of them to be exact.
---
The Painting Process…
---
Originally part of a 138-acre land grant from William Penn, the Gables at Chaddsford was one of the first homes in the Township. In fact, two of the four original chimneys are still visible. The pre-revolutionary property operated as a working farm for over a hundred years. Furthermore, it is believed to have been one of the stops on the Underground Railroad. Finally, in March of 2002, the house was placed on the National Historic Register.
In painting this wonderful piece of local history, I hope to capture the grandeur of a bygone era. This restaurant, like so many historic inns, holds a special place in the hearts of those who know it. It is comforting to know that something so beautiful has survived throughout the ages and weathered the changes of time.
---
When you visit the Gables at Chadds Ford Restaurant ask to see the original painting…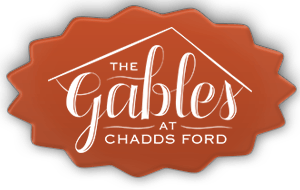 ---
The Gables at Chadds Ford
---
| Artwork | Status | Price | Purchase |
| --- | --- | --- | --- |
| Original Watercolor Painting "The Gables at Chads Ford" | Original (one of a kind) | SOLD | Commissioned by The Gables at Chads Ford Restaurant. It shall hang in the restaurant. |
| Limited Edition Signed & Numbered Print, Regular Edition. 500 Prints | Available | $100 | |
| Limited Edition Signed & Numbered Artist Proof Edition 50 Prints | Available | $200 | |
| Limited Edition Signed & Numbered Remarqued 25 Prints | Available | $500 | |
| One Pack of Note Cards 10 (5" x 7") Note Cards & 10 Envelopes | Available | $20 | |
---
Face Book buzz about this painting while in progress:
---
Face Book buzz about this finished painting…
---
---
How to Commission Original Artwork by Santoleri:
---
Nick Santoleri ~ Artist  |   Pine Ridge Productions, Inc.
1515 West Chester Pike Unit A-6, West Chester, PA 19382
In Historic Chester County, Pennsylvania
---