Rosemont College
Framed original watercolor painting by Nicholas P. Santoleri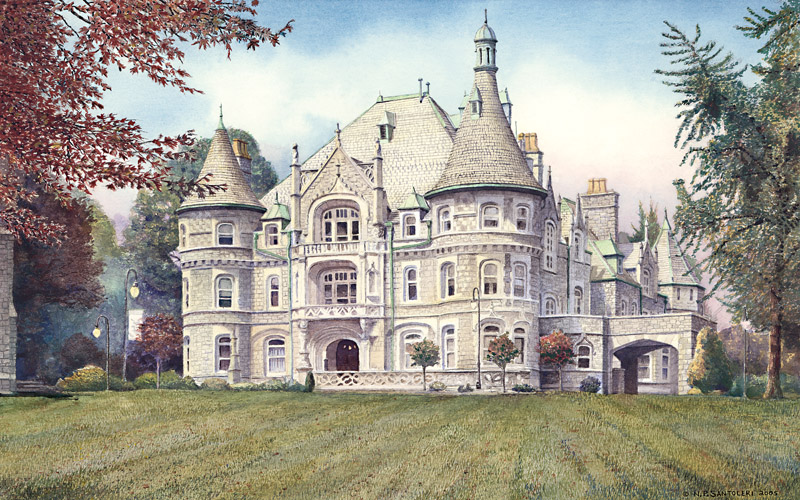 Original, one-of-a-kind, framed watercolor painting
About The Painting:
This watercolor painting was created by the artist in 2005
The image size of this painting is 16.75″ x 25.5″
Framed and matted by the artist with acid free matting
Overall framed dimensions, including mat and frame are 30″ x 39.5″
This watercolor painting comes with a letter of authenticity from our studio.
Price:  $7,500.
The price for this one-of-a-kind, beautifully framed and matted, original painting is $7,500.
A signed and numbered limited edition print of this painting is available through our studio. For information on this print click here
Rosemont College Watercolor Painting in Progress
Being familiar with my University Art Prints, Rosemont College approached me to do a watercolor painting and prints of their Main Building the "Rathalla". This building is a national historic landmark and the centerpiece of their campus. Being a fan of French Chateau style architecture and presented with the rare advantage of being able to paint this in the summer on the relatively quiet  campus, I agreed to the Rosemont College watercolor painting.
Slide show of this award-winning painting in progress: 
That summer I was able to enjoy undisturbed work time underneath big beautiful trees and work from my outdoor studio. The weather was in my favor that summer. The first day I put a spike in the ground between two beautiful Evergreens (to mark my territory, you could say). I'll always remember being attacked by ants the first day. It seems that my spike was in the middle of an "Ant Expressway" and they were less than thrilled about the traffic jam I had created. I backed my chair up about three feet and was continually captivated watching the ants walk their worn out path from one tree to the next.  I sat under those trees in the shade at least a dozen times that summer working on this piece.
See "Rosemont College"  Limited Edition Print
---
Nicholas Santoleri ~ Artist      Pine Ridge Productions, Inc.
1515 West Chester Pike Unit A-6, West Chester, PA 19382
In Historic Chester County, Pennsylvania
---