Home » Artwork » Original Art » Watercolor Paintings » Jimmy John's Pipin' Hot Sandwiches
---
Jimmy John's Pipin' Hot Sandwiches
---
Jimmy John's Pipin' Hot Sandwiches is an original watercolor painting by Nicholas Santoleri, commissioned by the owner of this iconic Chads Ford, Pennsylvania restaurant. This detailed painting, reproduced in an open edition fine art print, is hand signed by the artist and available in two sizes.
---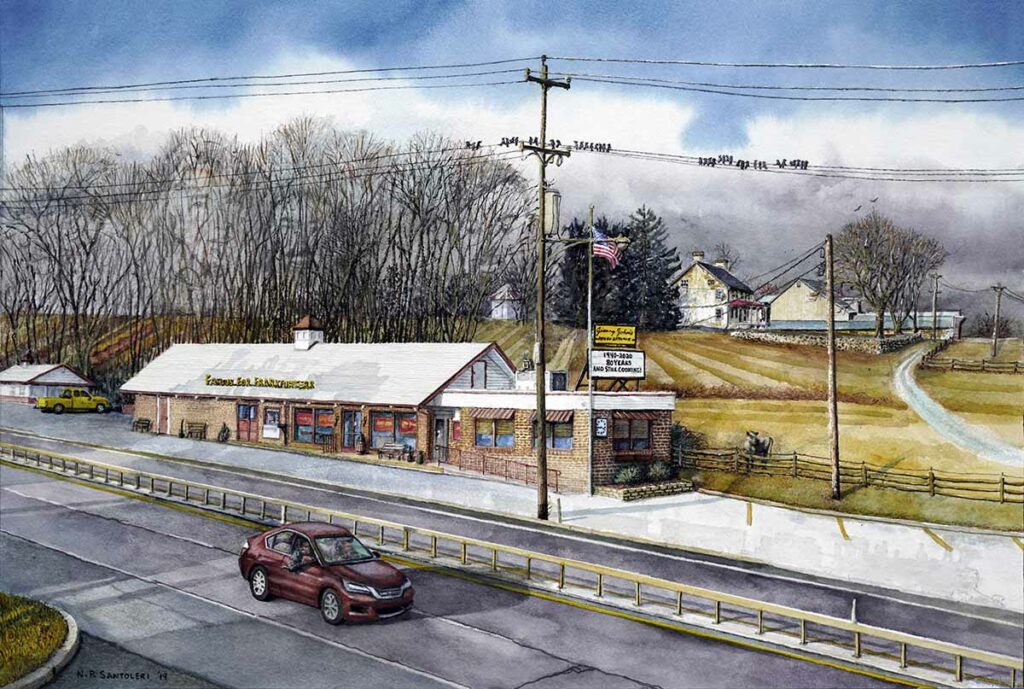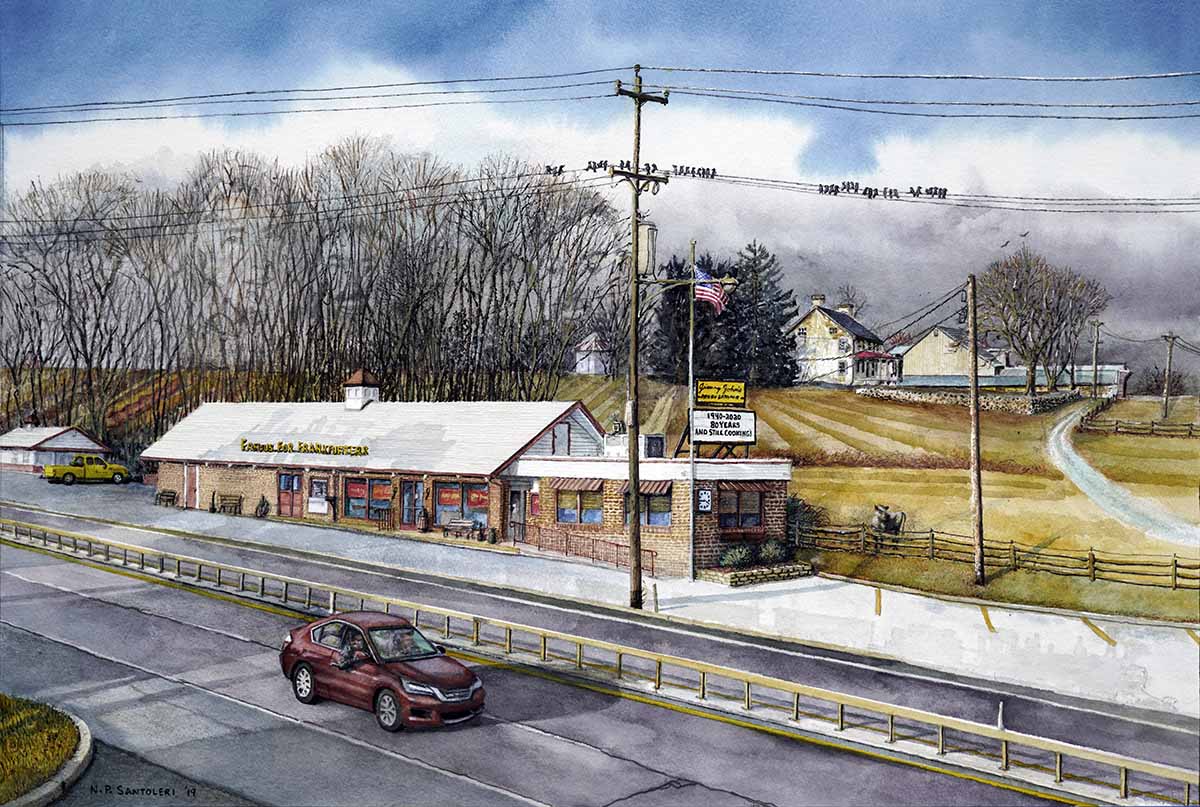 ---
Jimmy John's Restaurant with its Famous for Frankfurters logo, has been a beloved site in the West Chester area since 1940. The roadside family favorite is known for its pipin' hot sandwiches, great service, and electric train display. "Painting this watercolor brought back some nostalgic images of Jimmy John's for me. As a child, I loved the trains and all of the old photos on the walls. I confess I had some fun with this painting… see if you can spot some things hidden within the picture." The original watercolor has been reproduced in an open edition signed print in two sizes and printed on 100 lb. high-quality neutral pH balanced fine art paper.
---
Hidden Objects:
Three Hidden Faces: Rodger Stewart, owner; Bruce, friend and coworker; Jimmy John, founder
The Hidden Hot Dog
Jimmy John's Old Fashioned Box Camera
Two Trains Running
Birds on a Wire: Can you decode the secret message?
---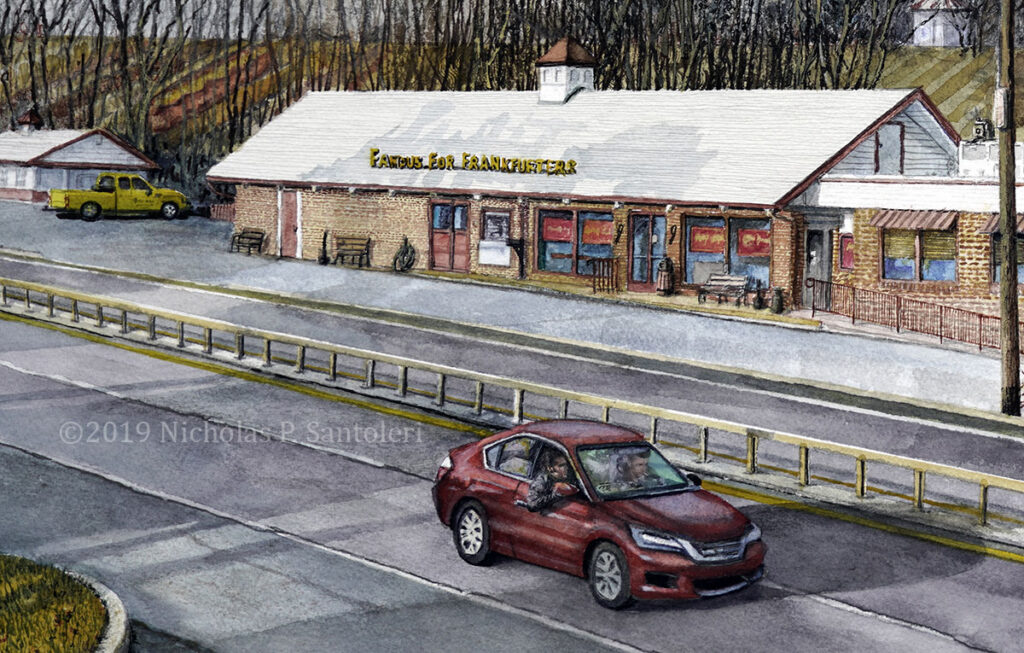 The original watercolor painting is painted on Arches Watercolor Paper. The image size is 18 x 28 inches. The painting is matted and framed with archival materials and glazed with UV resistant glass. The overall dimension of the framed piece is 27 x 34 inches.
---
Jimmy John's Testimonial:
---
The open edition prints are reproduced on 80 lb. acid-free fine art paper and printed with pigmented inks. The image size is 13.75 x 20 inches. The overall print size is 17 x 24 inches. The prints are reproduced in the giclee process.
A smaller open edition fine art print. Image size is 9 x 13 inches and is signed by the artist. See pricing at the bottom of this page.
---
The original painting is now on display at Jimmy John's
---
Prints Available Here:
| Artwork | Status | Price | Purchase |
| --- | --- | --- | --- |
| Original Watercolor Painting "Jimmy John's Pipin' Hot Sandwiches" | Sold | Commissioned | On Display at Jimmy John's Pipin' Hot Sandwiches | Sold | Commissioned |
| Open Edition Prints. (Medium Size) Image size is 13.75" x 20" Hand Signed Prints. Printed on 17" x 24" fine art paper. | Available | $100 | |
| Open Edition Prints. (Small Size) Image size is 9" x 13" Hand Signed Prints. Printed on 14" x 17" fine art paper. | Available | $40 | |
| One Pack of Note Cards 10 (5" x 7") Note Cards & 10 Envelopes | Available | $20 | |
---
Slide Show of Painting in Progress: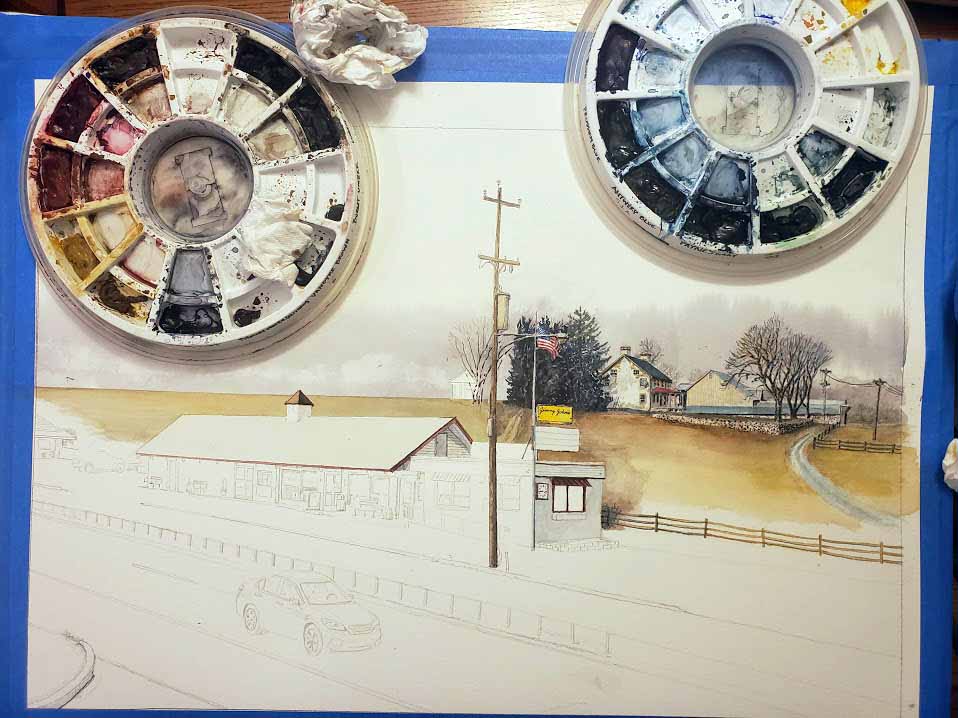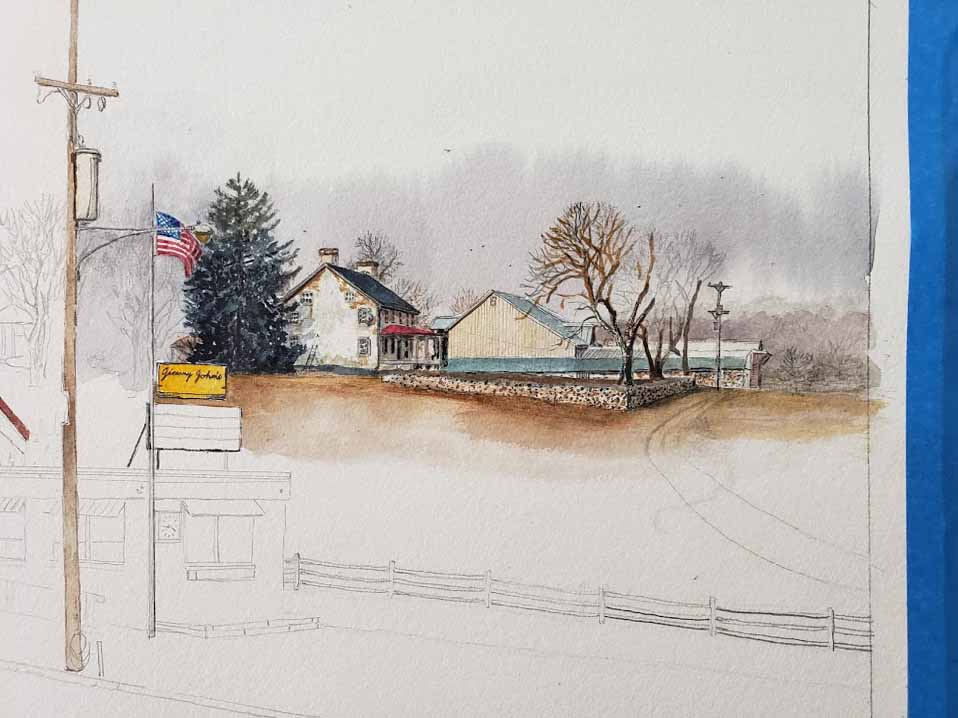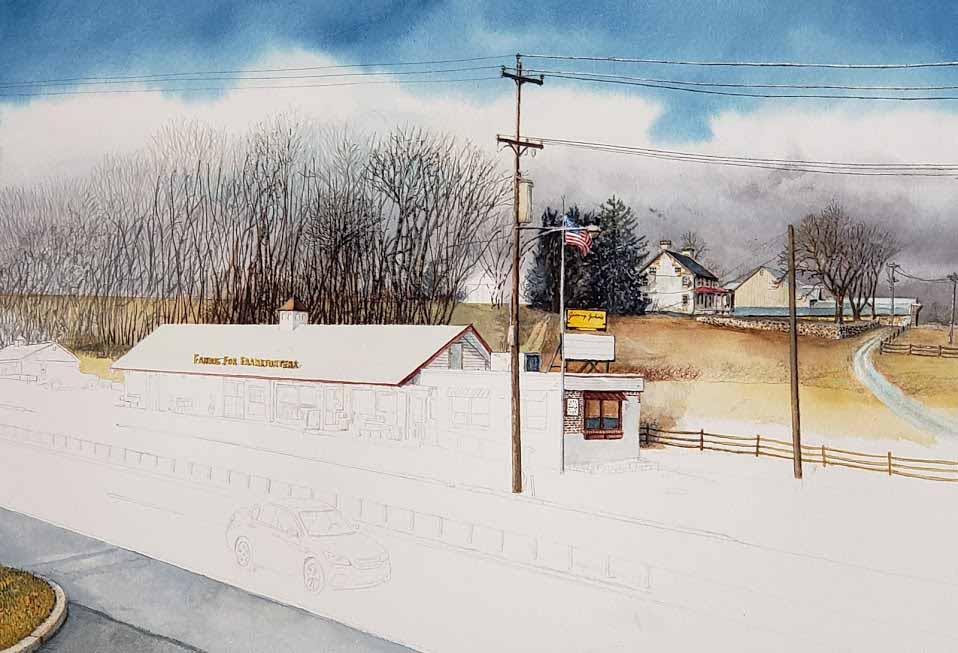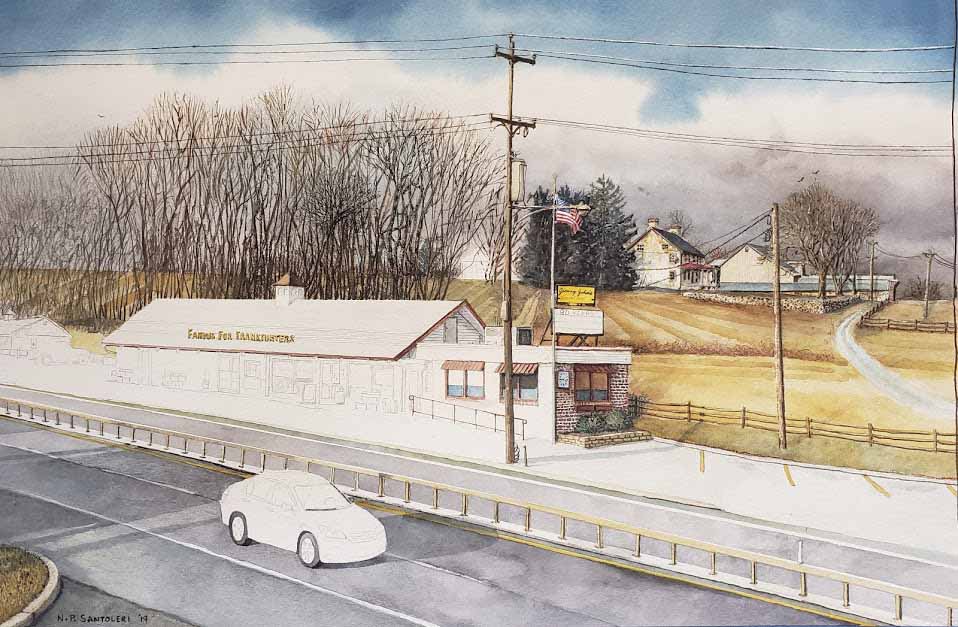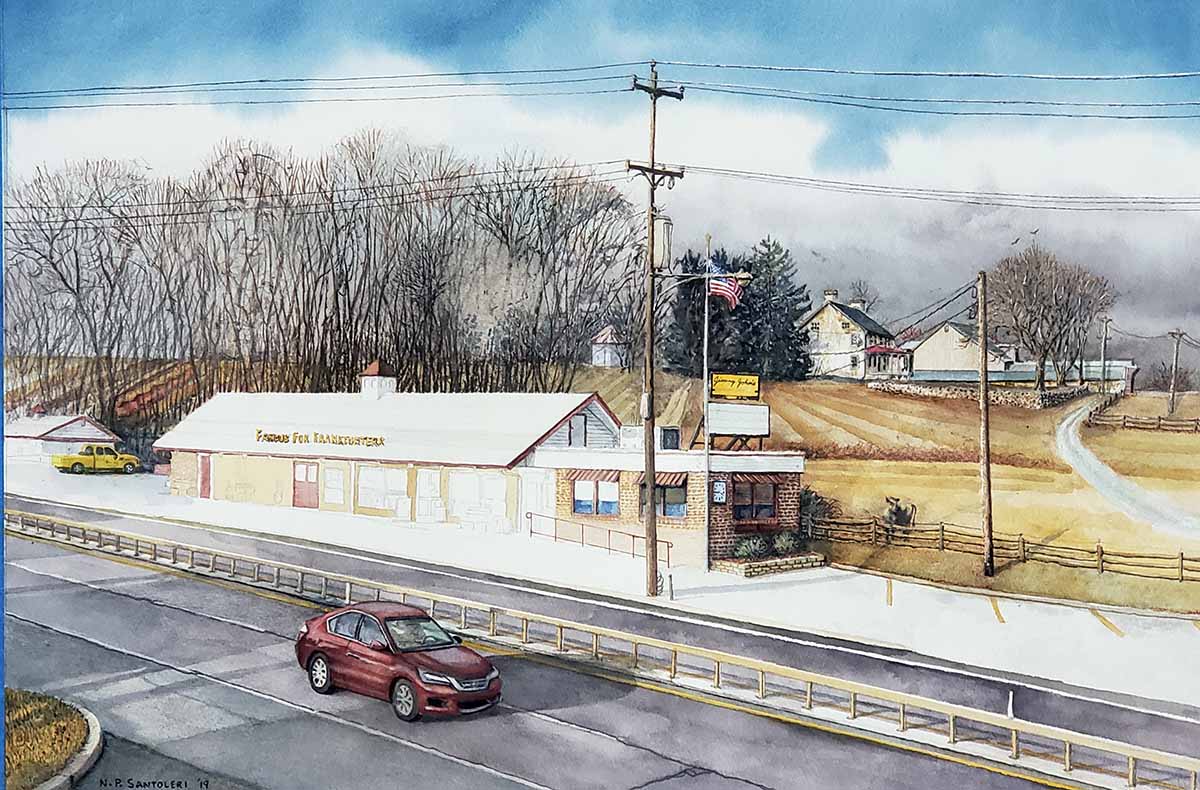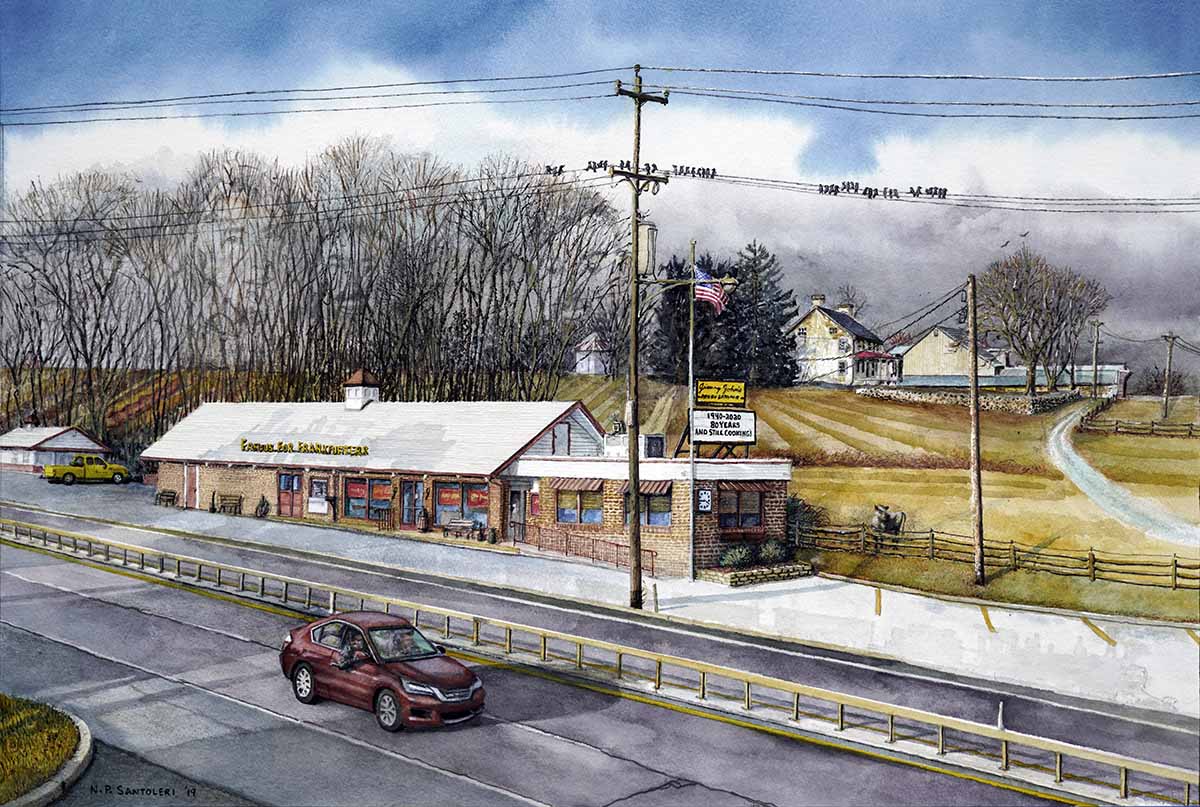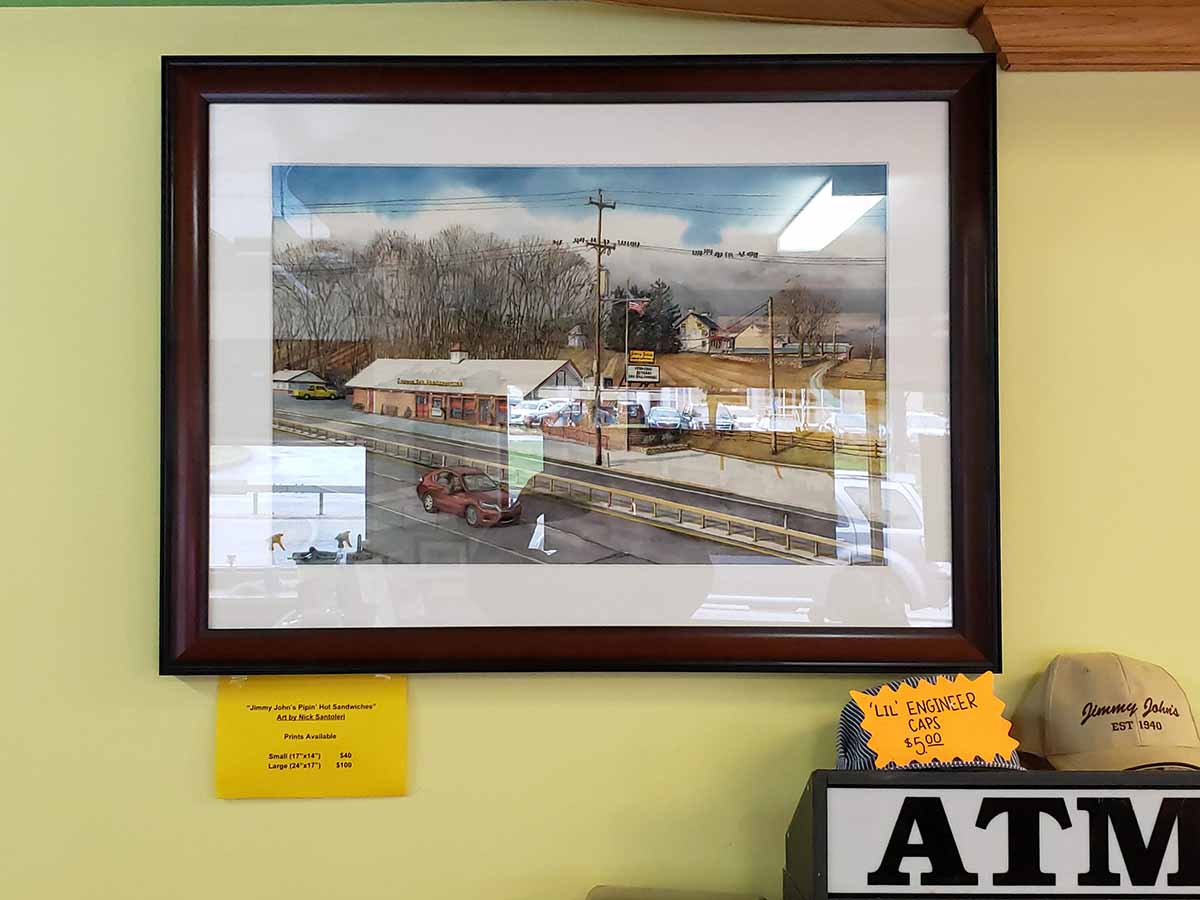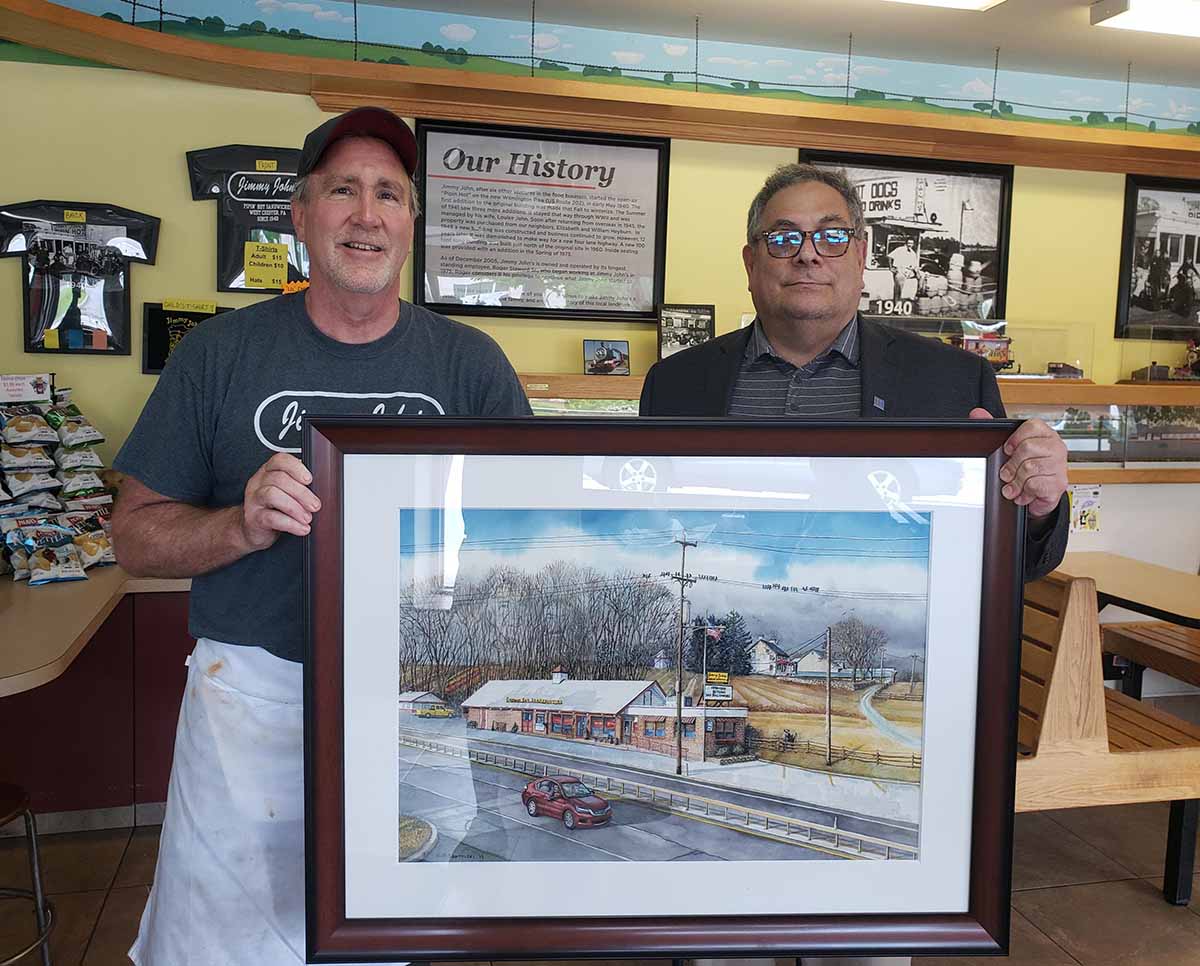 Jimmy Johns In Progress 01
jimmy Johns In Progress 02
Jimmy Johns In Progress 03
Jimmy Johns In Progress 04
jimmy Johns In Progress 05
jimmy Johns In Progress 06 Finished Painting
jimmy Johns In Progress 07 Framed Painting on the Wall
jimmy Johns In Progress 08 Roger The Painting and Nick
---
Spoiler Alert! 🙂
To find the hidden objects in this painting …

---
Nick will be happy to personalize your new print.

Free Print Personalized
---
How to Commission Original Artwork by Santoleri:
---
Nick Santoleri ~ Artist  |   Pine Ridge Productions, Inc.
1515 West Chester Pike Unit A-6, West Chester, PA 19382
In Historic Chester County, Pennsylvania
---