Home » Artwork » Original Art » Watercolor Paintings » Daybreak at Edgmont
Daybreak at Edgmont
---
Daybreak at Edgmont is an original watercolor painting by Nick Santoleri, commissioned by the owner of this iconic Edgmont, Pa Restaurant aka La Locanda Ristorante Italiano.
This detailed painting, reproduced in a limited edition fine art print, is hand-signed and numbered by the artist.
---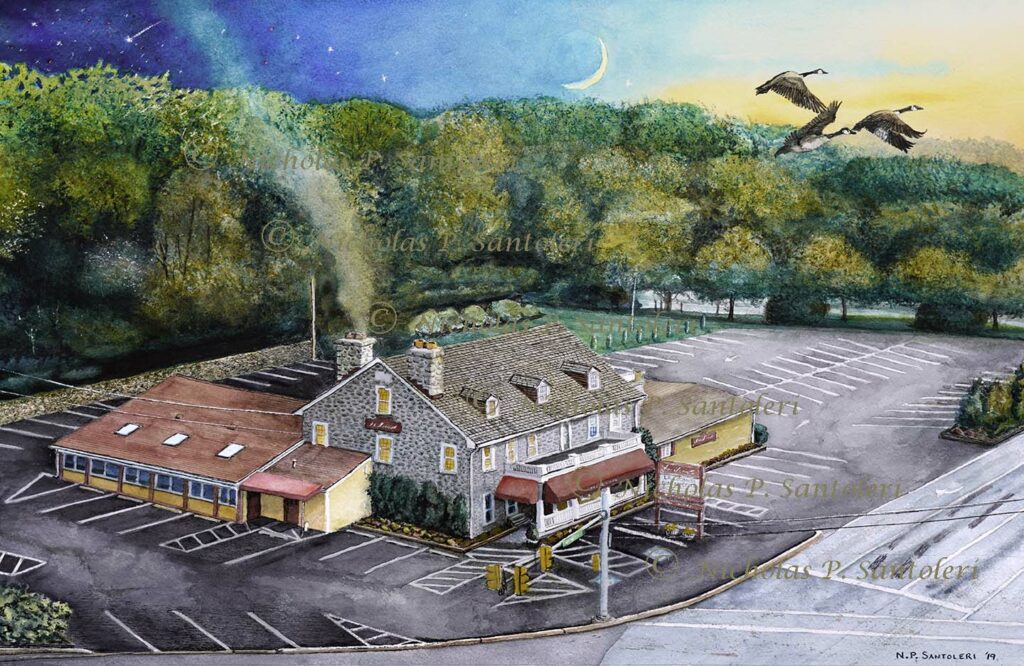 ---
In 1987, I completed a commissioned piece entitled, Evening at Edgmont. Now thirty-two years later, I've completed a second commissioned piece of that same iconic building entitled, Daybreak at Edgmont. This time, the viewer essentially becomes the fourth goose, taking in a bird's eye view of the scene.
If you look closely, you can see The Big Dipper hanging just above the treeline as the bright tail of a shooting star streaks across the morning sky.
---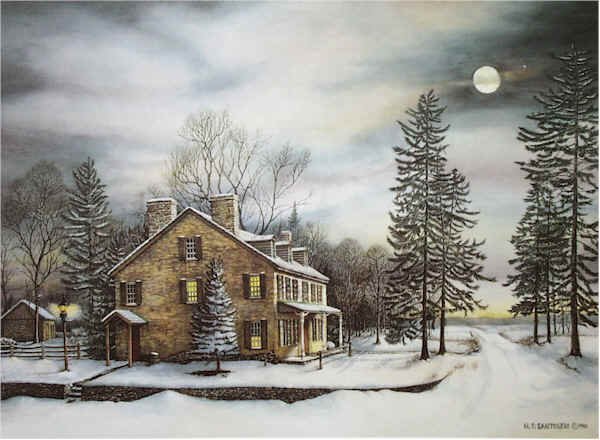 My inspiration for both pieces occurred in my childhood, during my many trips up and down the pike with my father. He was building a house out in East Goshen in 1963, and I would accompany him to the site, each time passing by the Edgmont Inn. Other than the Esso station, there were very few buildings on the road between routes 252 and 352 in those days, and I was keenly aware of that unique and beautiful building. Both the quality of the stonework and the style of the architecture make it timeless.
---
Painting from Conception to Completion:
Please click on the images below to enlarge them.
---
---
Purchase Limited Edition Reproduction and/or Notecards:
| Artwork | Status | Price | Purchase |
| --- | --- | --- | --- |
| Original Watercolor Painting "Daybreak at Edgmont" | Sold | SOLD | Commissioned by Mario Palumbi Co-owner of La Locanda Restaurant. It is hanging in the restaurant. |
| Limited Edition Signed & Numbered Print, Regular Edition. 500 Prints | Available | $100 | |
| Limited Edition Signed & Numbered Artist Proof Edition 50 Prints | Available | $200 | |
| Limited Edition Signed & Numbered Remarque Print 50 Remarqued Prints | Available | $500 | |
| One Pack of Note Cards 10 (5" x 7") Note Cards & 10 Envelopes | Available | $20 | |
---
See what people are saying about this painting on Facebook:
---
---
Nick will be happy to personalize your new print.

Free Print Personalized
---
How to Commission Original Artwork by Santoleri:
---
Nick Santoleri ~ Artist  |   Pine Ridge Productions, Inc.
1515 West Chester Pike Unit A-6, West Chester, PA 19382
In Historic Chester County, Pennsylvania
---