As The Crow Flies
Original Watercolor Painting by Nick Santoleri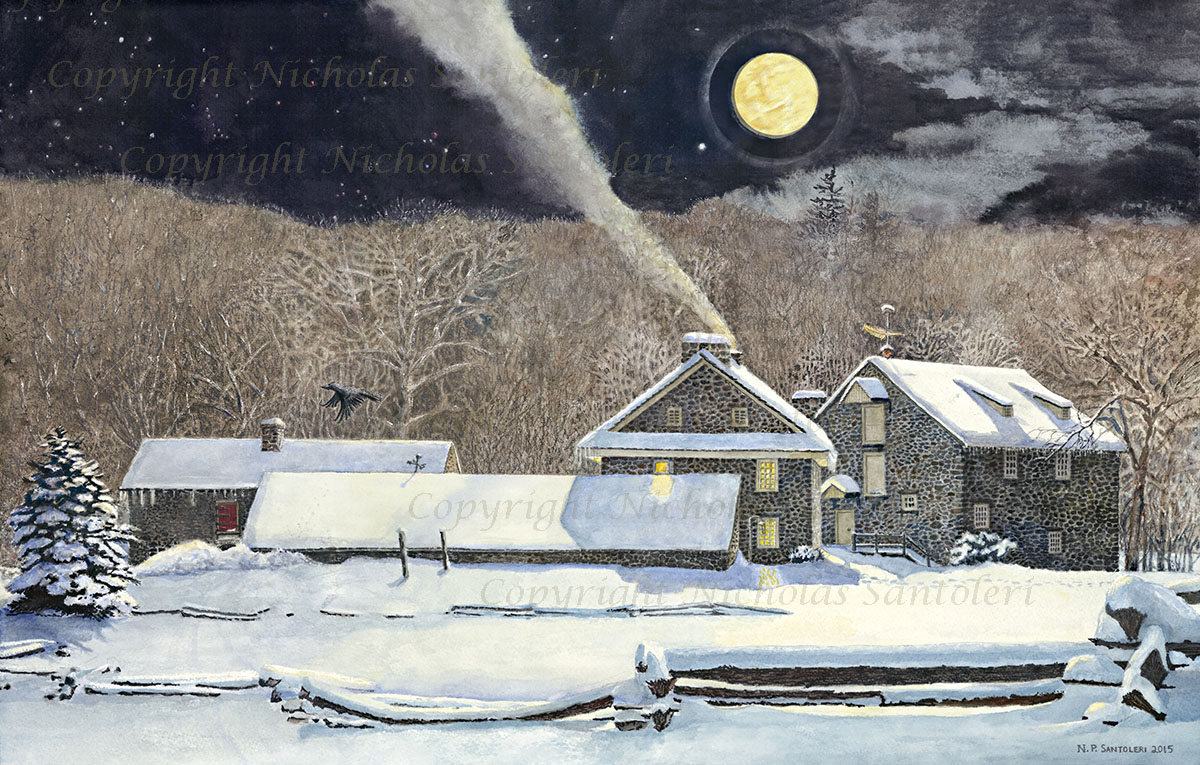 Slide show (below) of the steps in creating this painting.
 Click the arrows on the sides of the image below:
A pencil drawing was completed in 2013 entitled "As the Crow Flies". It was drawn to memorialize the death of Andrew Wyeth, (1917- 2009). This image of Andrew Wyeth's home in Chads Ford, Pennsylvania. They say he died in his sleep, so i tried to depict the night that he died. I believe it to be one of my best landscape pencil drawings to date. Through the past couple of years, as I have looked at it, the need to take it further and create a watercolor painting of the image slowly erupted inside of me. I started this painting on January 16th, the anniversary of Wyeth's death and completed it in 6 weeks.
About the (above) slide show.
A picture of the drawing completed in 2013.
Starting to draw the painting in pencil on watercolor paper.
A close up of the the process (under drawing).
Starting to put paint on paper by jumping right into the night sky, (the part that I felt would make or break the painting).
-15. Various stages to completion.
About the finished painting.
The image size of this painting is 19″ x 27″
Framed and matted by the artist with acid free matting
Overall framed dimensions, including mat & frame is 31.5″ x 39″
This watercolor painting comes with a letter of authenticity from our studio.
The price for this one-of-a-kind original painting is available $7,000.  Gone
Also See:
---
See what people are saying on Facebook about this page.
---
Nicholas Santoleri ~ Artist      Pine Ridge Productions, Inc.
1515 West Chester Pike Unit A-6, West Chester, PA 19382
In Historic Chester County, Pennsylvania
---