Colonial Plantation
Limited Edition Signed and Numbered Print.
Reproduced from the original watercolor painting by N. Santoleri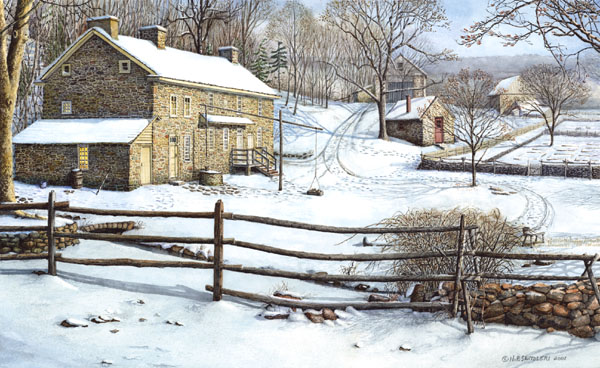 The Colonial Plantation has been a working farm since the early 1700's. The plantation buildings have been accurately restored using 18th century tools and technology, and visitors experience an authentic look at life on an early American farm. Men, women and children in period dress tend the crops and animals, cook over the open hearth, preserve foods, and perform other chores typical of the period.
This limited edition print, signed and numbered by the artist, was reproduced from the original watercolor of the same name, using the highest quality craftsmanship and printing on fine neutral pH balanced paper.
About this edition:
The original watercolor painting was created in 2001
The print image size is 12.25 x 20 (height by width in inches)
Type of Print

Edition Size

Print Status

Price

 

Purchase

Limited Edition Signed & Numbered Print

Regular Edition

 

950

Available

 

$100

Limited Edition Signed & Numbered Artist Proof
 

50

Available
 

$200

Limited Edition Signed & Numbered

Remarque Print

50

Available

$500

New!
Note Cards

 N/A

Pack of 10 Note Cards (5″x7″) Including 10 Envelopes

$20 
Would you like to have this print personalized for free?
Nicholas P. Santoleri ~ Artist      Pineridge Productions, Inc.
1515 West Chester Pike Unit A-6, West Chester, PA 19382
In Historic Chester County, Pennsylvania